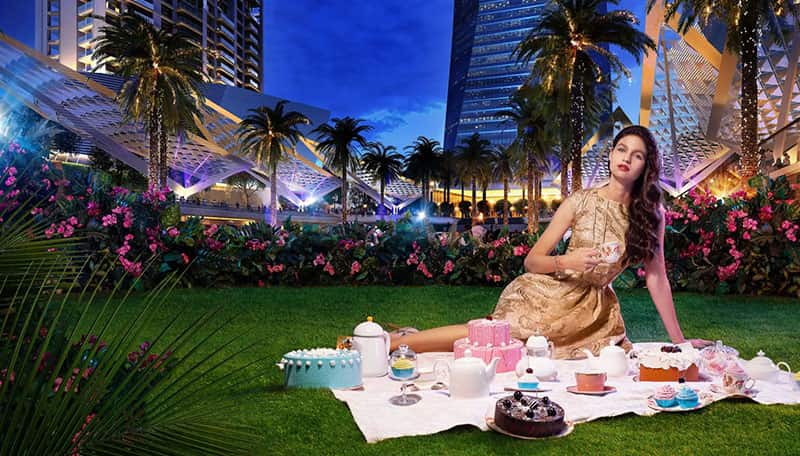 Dubai, with its high-spirited luxurious lifestyle and diverse communities, offers a wide range of neighbourhoods to choose from when looking for good places to settle in. Whether you prefer the bustling city vibe, aspire to live the quiet life, or are drawn to luxury, Dubai has a living option to suit your lifestyle. Let's explore some of the best neighbourhoods in Dubai, including the well-connected bustling areas, quiet and peaceful communities, and the more luxurious spaces.
Home to constant hustle and bustle, places like JBR, Downtown, Jumeirah, and JLT are built into the city's fabric as reliable, always open neighbourhoods.
JBR
Dubai's Jumeirah Beach Residence (JBR) is a vibrant waterfront community that offers an exciting lifestyle. Situated along the stunning coastline of the Arabian Gulf, JBR boasts a mix of luxury apartments, restaurants, cafes, and shops, all set against the backdrop of pristine beaches and the iconic Dubai Marina skyline. With its bustling promenade, JBR is a hub for outdoor activities, from leisurely strolls to water sports. Residents here enjoy a unique fusion of beachfront living, entertainment options, and easy access to amenities, making it an appealing choice for those seeking a lively and picturesque environment in Dubai.


Downtown Dubai
Known as the heart of Dubai, Downtown is a world-renowned district famous for its iconic landmarks, including the Burj Khalifa, Dubai Opera, and Dubai Mall. This bustling neighbourhood offers a vibrant urban lifestyle with its luxury apartments, fine dining, and world-class shopping experiences. Living here means being at the centre of Dubai's cultural and entertainment scene with easy access to the city's key attractions.


Bluewaters Island
Bluewaters Island is a captivating island destination in Dubai that is becoming an increasingly popular choice for those seeking a distinctive place to call home. Situated just off the coast of Jumeirah Beach Residence (JBR), this masterfully designed development offers a unique blend of contemporary living and leisure. The island is home to luxurious residences, including elegant apartments and penthouses with breathtaking views of the Arabian Gulf and the Dubai skyline. Residents here enjoy a vibrant lifestyle with an array of waterfront dining, upscale retail, and entertainment options. What sets Bluewaters apart is its iconic attraction, the Ain Dubai (Dubai Eye), one of the world's largest observation wheels, adding to the island's allure. For those who value modernity, exclusivity, and unparalleled leisure experiences, Bluewaters Island stands out as a truly distinctive place to reside in Dubai.


Jumeirah Lakes Towers
JLT is a dynamic and sought-after neighbourhood in Dubai, offering a contemporary urban lifestyle with a touch of tranquillity. This vibrant community features a collection of high-rise residential and commercial towers, clustered around a series of man-made lakes and beautifully landscaped park areas. JLT's central location provides easy access to key areas of Dubai, making it an ideal choice for both professionals and families.
For those who like coming home to some peace after a long day, Jumeirah Island and Al Qudra, among others, are some of the best residential areas in Dubai.
Al Qudra
Al Qudra is a rapidly developing area that combines natural beauty with peace. Located near the Al Qudra Desert, this neighbourhood offers a peaceful retreat from the everyday chaos. Residents can enjoy cycling and horse riding trails, and the stunning Al Qudra Lakes, making it one of the best communities in Dubai.


Jumeirah Island
A prestigious residential area in Dubai that exudes luxury and tranquillity, Jumeirah Island is a compelling option for those looking for lush landscapes. It offers a serene escape from the bustling city while maintaining proximity to its key attractions. The area is renowned for its wide avenues, picturesque parks, and world-class dining and shopping options. Its beautiful landscapes and a range of leisure activities make Jumeirah Island a hot property destination for residents seeking both elegance and comfort.
While these locations are great in terms of apartment living there are other neighbourhoods in Dubai that are the epitome of luxurious living. Areas like Palm Jumeirah Island and Uptown Dubai give its residents access to world-class amenities and are perfect lifestyle destinations for those who like to live the Kingsize life.
Dubai Marina
Dubai Marina is synonymous with luxury living. It boasts an impressive skyline of high-end apartments overlooking the beautiful marina. Residents here enjoy a glamorous lifestyle with access to upscale dining, shopping, and leisure activities along the waterfront promenade.


Palm Jumeirah
The Palm Jumeirah, a man-made island, is one of the major landmarks of the city. Its exclusive apartments offer stunning views of the Arabian Gulf and access to private beaches and world-class amenities. Living on Palm Jumeirah is a statement of affluence and luxury.


Uptown Dubai
A smart district like no other, Uptown Dubai is home to two super tall towers out of which, the newly completed and launched Uptown Tower is 81 floors of pure luxury. With 22 floors of dedicated grade A commercial space, Uptown Tower also features the ultra-exclusive 5-star SO/Uptown Dubai Hotel and SO/Uptown Dubai Residences offering 1,2, and 3-bedroom 5-star branded luxury apartments, and magnificent duplexes, and penthouses.
Dubai's diverse neighbourhoods cater to a wide range of preferences, from the lively and well-connected to the peaceful and luxurious. Your choice of neighbourhood ultimately depends on your lifestyle, priorities, and budget. Whether you're drawn to the energy of The Palm or the extravagance of Uptown Dubai, the city has the perfect apartment living option for you.